Recently, the ABCs of Attraction was asked to give seven style tips for a piece called 'Seduce with Style' written by our friend AlphaWolf over at PUA Lingo and Seduction List.
While it floated around our company for review and edits, one of the points lit the fuse of a large powder keg in my mind. I felt that the tip, though only referenced briefly for the purposes of the article, should be expanded upon for greater influence and explanation. This tip was as follows:
"You're Missing The Point of Peacocking.
Remember that "Peacocking" was originally the act of wearing ONE item that would give a woman a reason (and thereby, the opportunity) to approach you. Of course, the founding members of that theory took it to it's extreme (as the fathers of a theory are wont to do – see: Socrates), but that does not mean WE need to. Nowadays, a feather boa and a cowboy hat go overboard and elicit negative impressions from women. Something subtle, like a well-chosen ring or a fancy tie-bar will set you apart from the rest, additionally proving that you have both style AND class."
That pretty much makes clear the feelings I have about peacocking, but I've been receiving a lot of emails that are saying I'm speaking conceptually and not from actual experience. Most of these emails say that the rules I'm advocating are falling under the "Do as I say, not as I do" category. These objections are pretty easy to understand because, well, I look like this….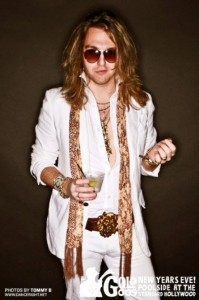 I will be the first to readily admit that my style of dress certainly does not hurt me when I'm sarging, but the reason it works is because my identity is congruent with my appearance (congruence is the state of things agreeing) and that indicates, subconsciously – in most cases, that I have no ulterior motives or intentions (intention, of course, is the purpose or attitude behind our actions).
Before even picking up The Game, I toured with several rock bands all around the country. My long-hair-don't-care style of dress was a direct product of being on stage and leading a life of rock and roll sensibility since I was 16, not an attempt to Peacock. Because of this, I don't think twice about the way I'm dressed when I'm with a girl. That is congruence.
Most of us have read The Definitive Book of Body Language (a MUST READ for all PUAs) and so we understand that because a woman has between 14 and 16 areas of the brain to evaluate other's behavior (vs. a man's four to six areas), she is going to be much better adapted to reading our intentions. In most cases, this is what sinks us when using canned routines, and what saves us when we are truly attracted to a girl, but are shaking in our boots.
When a woman feels we are being congruent, she interacts more freely with us, allowing the conversation to continue smoothly (provided you're not saying anything jackasstastic). However, when a woman feels we are being incongruent, her female intuition (read: Spidey-Sense) starts tingling and we are on our way to the bottom of the pickup ocean. When your personality does not match your behaviors, actions or fashion sense, it reads like a big red warning sign to women and, since women are twice as good at interpreting not verbal cues than men are, she picks up on it right away!
Let's break this down:
If you are dressing a certain way specifically to 'get girls' your style of dress will be incongruent with your personality which will make your intentions more obvious to women, setting off her biological alarms.
In general, I always encourage my students to dress in whatever way makes them comfortable, provided they make the effort to be presentable and stay congruent with their personality. You don't need to spend an hour doing your hair or wear a $3,000 suit jacket every night and it is perfectly fine to be a jeans and a t-shirt kind of guy, but make sure you're that all your clothing is clean and well fitting. This will transmit to women that you possess a personal style and that you pay attention to detail. And these qualities can be as compelling and attractive to her as a feather boa and cowboy hat is on another PUA.
I hope this helps!